Learn what new research says about the sustainability of U.S. timber supply.
In light of the growing popularity of mass timber products to replace steel and concrete, it's logical to ask if our forests can meet the new demand. Will increased timber production lead to overharvesting and a loss of North American forest land? New research published in Sustainability and summarized in a fact sheet by Think Wood offers a comprehensive answer.
Published by researchers at the University of Washington's Center for International Trade in Forest Products (CINTRAFOR) and the Natural Resource Spatial Informatics Group (NRSIG), the paper [1] used data from the USDA Forest Service to project forest growth and harvests. Even in the most conservative scenarios (i.e., low growth, high harvest), the researchers found that U.S. forest growth will exceed harvest levels to meet demand for mass timber demand through 2035.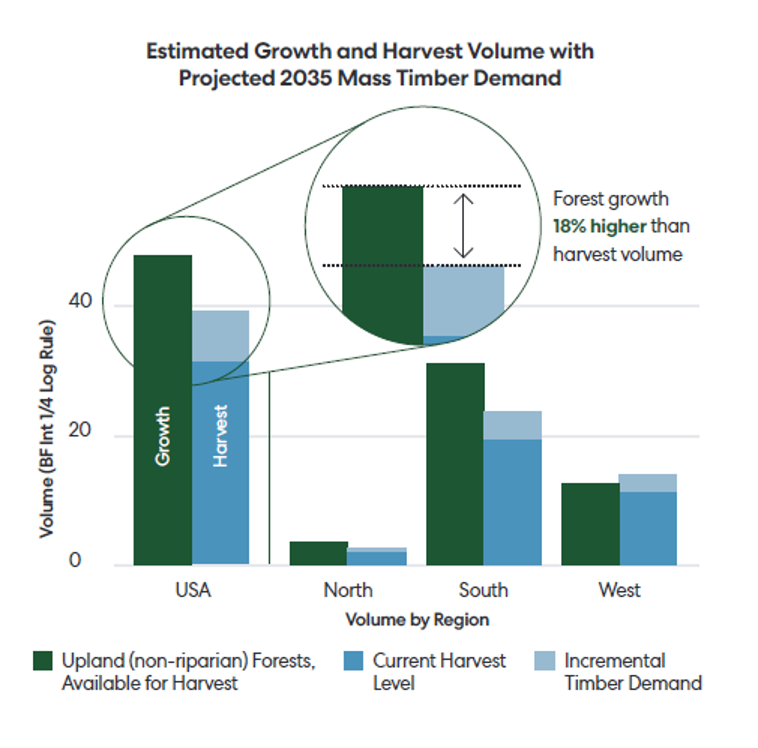 With mass timber products representing an important opportunity to reduce embodied carbon in the built environment, increased market uptake of mass timber would represent a 17% increase in timber demand by 2035 over today's harvest. Current consumption only consumes 66% of forest growth, however, and even with the projected increase in demand, forest growth exceeds harvest by 18% in the most conservative scenarios.
"Cognitive dissonance related to a desire to use wood building products for their carbon storage capability but concerns about sustainability is understandable," the authors write. "The results of this research add more evidence that should help allay those concerns. Our analysis clearly shows that the United States can sustainably use more mass timber and reduce greenhouse gas emissions and embodied carbon in our built environment."
The course, "The Impact of Wood Use on North American Forests," is an important resource for those seeking to learn more about how U.S. forests are able to accommodate increasing timber harvests. In addition to discussing how responsible forest management in North America has led to more than 50 consecutive years of net forest growth, the course also covers other elements of forest health and sustainability.
For example, the course explores why actively and sustainably managed forests can provide greater carbon mitigation benefits than unmanaged forests. That's due in part to the fact that after trees are harvested to become timber products that store much of the carbon they've absorbed, the younger trees that replace them take up carbon more quickly than older, mature trees. Sustainably managed forests can also deliver a range of environmental and social benefits, including timber resources, jobs and economic opportunities, clean water, wildlife habitat, and recreation.
Although the positive outlook for U.S. forests is well-known in the forestry industry, awareness is lower among the general public. AEC professionals can help support their clients' sustainability goals by making them aware of the ecological impacts of the materials they specify.
1 "Increasing Mass Timber Consumption in the U.S. and Sustainable Timber Supply," page 7 (Figure 4 and Table 10).
Check out the CEU